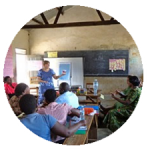 Why We Serve? "The Strategic Directions"
Human Rights Promotion
Vulnerable communities empowered to claim for their rights eg the refugees and host communities
Promoting justice for the most vulnerable people in the targeted Districts
Increasing demand and utilization of health and HIV prevention services.
Quality service expansion
Promoting Provision of quality education to the most vulnerable communities.
Empowering communities to demand for provision of quality services from the duty bearers.
Networking and collaboration
Increasing participation in relevant networks, forums and alliances
Building partnership that will foster our capacity to raise adequate funds.
Institutional development
Strengthening HR systems for effective service delivery.
Increasing internal capacity of resource mobilization among staff.
Building capacity of RACOBAO Board members in fundraising